Conrad Lee, Mayor of the City of Bellevue, Washington, USA
Bellevue Councilmember Conrad Lee, current mayor and recent past deputy mayor, has served on the City Council since 1994. He is the Council liaison to the Bellevue Transportation Board; serves as Bellevue's representative on the National League of Cities, King County Regional Transit Committee, Bellevue Economic Partnership with the Bellevue Chamber of Commerce, as well as on the Bellevue School District Strategic Planning Core Committee.
Mr. Lee was born in China, raised in Hong Kong and has been a resident in Bellevue since 1967. He and his wife have raised their two children in Bellevue's Somerset neighborhood.
Learn more about Mr. Lee and the City of Bellevue in this Welcome video (English with Chinese sub-titles)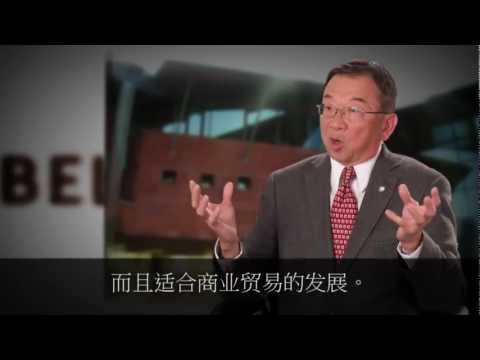 Q. What does your role as mayor of Bellevue mean to you personally?
A. I think that the role of mayor can be quite important to the well-being of a city, by communicating with the citizens, helping to provide leadership, and conveying a positive vision of the future. In a city that has rapidly become very internationally diverse, my own background as a bi-lingual Chinese-American can be helpful to understand that change and work to make the city a welcoming place for all people who live or visit here.
Q. In what ways are you optimistic about business relations between the United States and China?
A. I am very optimistic. Especially in Washington State, since China is our largest international trading partner and Chinese are one of our largest groups of foreign-born people, we can easily see the business opportunities and business ties.
We now even have direct flights from Sea-Tac Airport (only 20 minutes from downtown Bellevue!) to Beijing on Hainan. It's wonderful. People are flying back and forth all the time and there are many business relations – with Dalian, Qingdao, Shanghai, Shenzhen, and Xian, too.
Q. Is there any new initiative or project you are engaged in or hope to start that will help further positive relations between the City of Bellevue and people in China?
A. For several years now, we have had economic cooperation agreements with Dalian and others in China. We hope to expand and continue those relationships.
We are fortunate to have developed trusted relationships both in government and business. That is rare for a city to do, and we have sought to be a leader in that. This website project, too!
Next, we hope to create an EB-5 regional center and soft-landings program for Chinese companies who want to locate here. Currently, we are helping an investment group from Dalian look at building a Chinese culture and entertainment center in Bellevue similar to what is in Dalian. It will only be a short walk from City Hall.
Q. What are your suggestions for businesses in China that want to do more business with the United States?
A. My advice is to set realistic goals, be patient, try to find the right partner, and line up some experts you can trust to assist you in the project. Some mistakes will be made, such as in translating words, but don't worry about those. Everyone here is friendly and we want to help you succeed. Our city has experts in many professional fields who also know China.
Q. What advice might you give to your friends and colleagues about conducting business successfully in China?
A. My advice is to be patient, candid (because being trusted and knowing what you want is very important), and enjoy the experience. I also tell my friends to have a good sense of humor as you learn your way.
In a nutshell: Make friends, communicate, and share good experiences.
Q. How long have you lived in the area?
A. Fifty years.
Q. What would you tell your friends and colleagues in China about what it is like to live and work in this area?
A.. It's like heaven, like God created it to be.
Q. Is the Bellevue/Seattle area a good place to raise children?
A.. This is a wonderful place to raise children because you have all the things you need, including safe neighborhoods, activities, cultural diversity and unlimited educational opportunities if you work hard.
Q. Why should companies from China bring their business and invest in Bellevue?
A. This a perfect place from which to launch business activity all across the U.S. market. Here, you can establish a quality brand image, and find the help you need. You will also enjoy this area because it is so clean and enjoyable as a place to live – water, mountains, clean air, and a fun city.
Q. Is there anything else you would like to add?
A. In Bellevue, everyone has the freedom to succeed while fully enjoying the experience of living. We invite you wholeheartedly.