David Yang Wasielewski, Owner of Din Tai Fung Dumpling House in Bellevue
"This is what my native country can offer, and I can bring that to the U.S. I can help create a bridge between the two cultures and make the brand bigger, better, and more popular in the states."
 ~David Yang Wasielewski, Owner of Din Tai Fung Dumpling House in Bellevue
Din Tai Fung is a well-known international brand, with nearly 90 restaurants globally. The Bellevue, Washington store is the first in the Pacific Northwest. It is located on the second floor of Lincoln Square at 700 Bellevue Way NE #280.
Call (425) 698-1095 or visit http://dintaifungusa.com/.
In this video, David Yang Wasielewski, owner of the Bellevue Din Tai Fung, talks about his vision for the brand: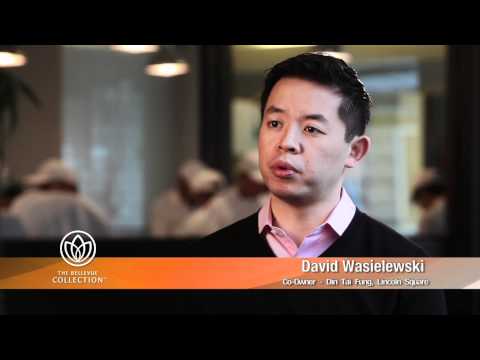 The BellevueCN.com editors visited Din Tai Fung in Bellevue and chatted with David Yang Wasielewski, owner and general manager.
Q: When did you become a fan of Din Tai Fung?
A: Din Tai Fung started around 45 years ago as a small, single store restaurant in Taiwan. I grew up in Taiwan and lived in Taipei, where everybody knew about Din Tai Fung and had eaten there – similar to the way people who live in the Seattle area have probably been to Starbucks.
Q: What prompted you to partner with the Yang family to open the first Din Tai Fung in Washington State?
A: My family immigrated to Seattle when I was 11. After I moved to the U.S., Din Tai Fung started to expand internationally. I attended Seattle University and graduated with an MBA degree in 2001. My first job was at Intel's headquarters in Santa Clara, California. I worked for 10 years in their marketing department, leading a team that focused on taking care of Intel's global channel customers and their training needs.
Due to my Chinese background, I primarily focused on Asia, and I traveled to Asia a lot. Every time I went there, I'd go to a Din Tai Fung. No matter which store I went to, whether it was in Singapore or Australia or China, the service level and food quality was consistent. You always know what you're going to get when you walk into a Din Tai Fung.
I didn't wake up one day and say, "I want to start a restaurant." I wanted to be in the Din Tai Fung business. Although the restaurant business is different than being a marketing manager for a high-tech company, I approached it from the understanding of marketing, branding, and business opportunity. I thought, "Din Tai Fung is such a great brand and product; it's a shame people in the U.S. don't have the opportunity to enjoy it unless they travel to Asia."
As a Taiwanese citizen, I can proudly say, "This is what my native country can offer, and I can bring that to the U.S. I can help create a bridge between the two cultures and make the brand bigger, better, and more popular in the states."
I felt Din Tai Fung would fit well in the Seattle area. I met with the Yang family several times, and we reached an agreement that I would jointly partner with the corporation. They are great people to partner with; they have given us a lot of support, and they are very, very good at what they do.
Q: What is your vision for Din Tai Fung?
A: My vision is to provide the authentic Chinese food that Din Tai Fung has offered for the last 40 years, and their standard of service, but to run it as an Americanized restaurant.
Q: How did you localize the Bellevue restaurant for the American market?
A: In downtown Bellevue, you pretty much have to have a bar in your restaurant. None of the other Din Tai Fung have a full bar. When I approached the Yang family about this, they were very open-minded. We put in a bar that doesn't dominate the restaurant or take away from the "family" feel.
Q: Why did you locate the restaurant in Bellevue?
A: I thoroughly researched several locations and Bellevue was the number one choice. Bellevue has experienced tremendous growth during the past five-to-ten years, and the city continues to grow. Our space in Lincoln Square is across the sky bridge from Bellevue Square, one of the largest shopping malls in the state of Washington. Plus, Bellevue Square has free parking.
We're surrounded by two major hotels, the Westin and the Hyatt. The Bellevue Lincoln Square Cinema above us is one of the top five AMC movie theaters in the nation, in terms of sales.
I like the fact that we're in an indoor shopping mall complex. When guests come in and we have a 45-minute wait, we use a text message system to notify them 10 minutes before their table is ready. They can find a parking spot, shop at the mall, or settle in to their hotel room. When we text them, they stroll back to Din Tai Fung and their table is ready.
Q: Are your customers locals or tourists?
A: We have a lot of regular Bellevue/Eastside customers and lot of regular customers from Seattle.
We're also a destination restaurant. We draw people from Vancouver, B.C. (Canada) and Portland, Oregon. Canadians, in particular, come to Bellevue for the weekend to shop and eat. We also get calls from people who have just flown into Seattle from Atlanta, Boston or China – they tell us they're heading our way and ask us to reserve a table.
Q: What is your business philosophy?
A: I wanted to create a restaurant that serves authentic Chinese food versus creating a Chinese restaurant. In introducing an existing brand to a new market, I see my job as being a protector of the brand. I follow the Din Tai Fung "recipe" – to provide the best possible food, and to make sure that the experience for our customers is consistent.
We make over 90 percent of our food ourselves, from scratch. We make the dumplings and noodles from flour and water and eggs; we mix it in the dough machine and hand-wrap the dumplings.
Because we make everything from scratch, our manpower demand is huge. We have close to 200 part-time and full-time employees who serve an average of 1,500 customers per day during the week and 2,400 customers per day on weekends.
It's a huge, ongoing challenge to train and motivate the staff so they understand what is expected of them and know how to do it. I'm not afraid to invest in our people. Unlike some restaurants that assign one server to an 8-table section, we have two servers for each section. We work as a team, so when a particular server gets busy, the server next to them will help out, or the manager will help out.
You'll often see me and my management team taking orders; cleaning dirty plates off the tables, and running credit card payments. Other than the fact that I wear different clothes than my servers, you wouldn't know that I'm the boss. I believe that the CEO is only as good as the team he leads, and so we focus on working as a team.
Q: How has the Bellevue Din Tai Fung become so wildly successful after only 2 ½ years in operation?
A: When you come to downtown Bellevue, you have a lot of options. There are probably 15 restaurants on the corner where we're located, and nearly 50 restaurants within a one-block radius. When you're hungry, it's either the steakhouse or us; Italian or us; hamburgers or us.
We stay humble, we work hard, and we do whatever is necessary to make sure our customers have a good experience when they come here – the same good experience every single time.
And that doesn't just include serving delicious food. We have a full-time bathroom cleaning lady who cleans the men's and women's restrooms every 15 minutes. We understand that when you go to a restaurant, you want to go to a clean environment. And the restroom is part of the restaurant.
I have yet to spend a penny on advertising. It's all word-of-mouth. And word-of-mouth is the best advertising money can buy.
Q: Do you have plans to expand Din Tai Fung to other parts of the Puget Sound region?
A: We're opening a second location in Seattle's University Village in November 2013. We'll be located on the second floor of a new, six-story structure that has retail on the first two floors and parking on the top four floors.
Q: What tips would you offer to business professionals in Asia who might want to do business in the Bellevue/Seattle area?
A: Bellevue offers great opportunities to invest. The client base here is diverse, sophisticated, and wealthy… and they appreciate authenticity and good value. There is a strong Asian clientele, and non-Asians here are open-minded about trying new things from Asia.
People interested in doing business in Bellevue should meet with the local authorities and understand the rules and regulations on how to do business in the U.S., in Washington, and in Bellevue. Business practices in Asia are different than in the U.S. What you think might be easy to do in China may or may not even be available or allowed here.
The support we've received from the community has been unbelievable. We are happy to be part of the Bellevue community.