This first Asia Business Forum of the new year will assess the business trends and economic prospects for Asian economies in 2014. Attendees will learn about the current conditions of key Asian countries and what to expect in China, Japan, India and Southeast Asia in 2014. ABF's team of experts is engaged in Asia and tracks relevant policies and recent developments to deliver critical insights to its members and attendees, welcoming input and discussion.
January 23, 2014
Fu Dog Dedication Ceremony
The City of Bellevue celebrated 30 years of its Sister City friendship with Hualien, Taiwan on July 29, 2013, when two white marble Fu Dog statues (guardian lions) were dedicated and awakened.
The Fu Dog statues are a symbol of protection, good fortune, and prosperity.
With a population of more than 110,000, Hualien is similar in size to Bellevue and is a leading producer of marble. First Lady of Hualien, Zhang Mei-Hui, said that the marble in the statues represents the city of Hualien and is "the finest in the world."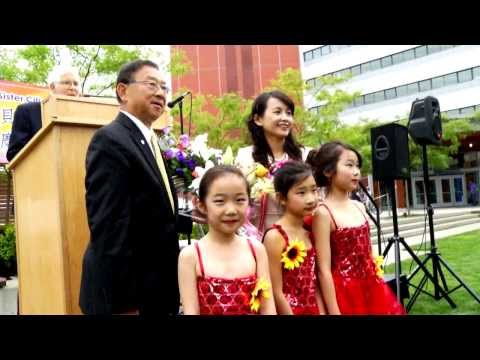 The festivities at Bellevue City Hall Plaza included a welcome from High Burleson, president of Bellevue Sister Cities Association; and remarks from Bellevue Mayor Conrad Lee, U.S. Congressman Adam Smith, and Chin Hsing, Director General of Taiwan Economic and Culture Office.
The crowd of several hundred was served lunch provided by a local Chinese restaurant.
Entertainment during the public event included performances by the following groups:
Sin Moung Traditional Percussion Artist Group of Korea
The International Lion Dance Team
Shaolin Master Zhou (Martial Arts)
Okinawa Kenjin Kai Taiko
Four Seasons Choir
Seattle Folk Dance Group
Huayin Performing Arts Group
Seattle Chinese Youth Orchestra
Forever Charming Model School
First Lady of Hualin, Zhang Mei-Hui, said, "We look forward to promoting our friendship, but also want to learn and share our ideas and vision for the future."
Read more about the celebration in the Summer 2013 issue of the Bellevue Sister Cities Association newsletter.
Erin Ennis will discuss the current operating environment for US companies in China and provide an overview of the latest developments in the US-China relationship. She will also discuss the findings from the USCBC's annual member survey. A question-and-answer session will follow the presentation.
Wednesday, November 20, 2013 | 7:30am – 9:30am | Trade Development Alliance of Greater Seattle, Microsoft Conference Center
This conference will consider key aspects of the rule of law in China, assess the regime's ability to manage calls for greater adherence to the rule of law, and ultimately address the question of whether the ruling party can be constrained by law. The organizers have assembled an array of top scholars, practitioners, and advocates from the United States and China to assess these issues through two critical segments of China's population: the elite and the general public.
Friday, November 15, 2013 | 9:00am – 4:00pm | Magnuson/Jackson Trial Courtroom, University of Washington School of Law
Governor Inslee will lead a trade mission to China in November 2013. The purpose of this mission is to help Washington State businesses identify new overseas partners and establish business relationships.
November 11-19, 2013
Beijing Meets Seattle US Premiere
More details soon!
The inaugural Seattle Biz-tech Summit is presented by several major business and technology organizations and leading enterprises from the Northwest area and overseas. This event aims to identify and acknowledge the substantive gains that global and local businesses are making in developing, employing and applying technology for their own companies and their clients. And, true to the natural beauty of the Pacific Northwest, the summit also encourages its participants to "Go Green".
Saturday, October 19, 2013 | 7:30am – 5:30pm | Hyatt Regency Bellevue
Enjoy a lively and highly informative evening while supporting your Washington State China Relations Council! This year we are proud to have as our keynote speaker Ambassador Gary Locke. We will also be honoring WSCRC member company Expeditors International and presenting the WSCRC lifetime achievement award to Mr. Sidney Rittenberg.
Tuesday, October 1, 2013 | 5:30 – 9:00pm | Washington State China Relations Council
At this timely Forum, we will examine the state of e-commerce in China, Japan and other key Asian countries and look at how Seattle-area companies are successfully conducting e-commerce there.
Tuesday, September 24, 2013 | 5:30pm | Asia Business Forum
Consular Corps Dinner
The Indo-American Friendship Forum, City of Bellevue, and the Trade Development Alliance of Greater Seattle are hosting a dinner for her Excellency, Mrs. Nirupama Rao, the Ambassador of India to the United States, and the Diplomatic Corps of Washington State.
Thursday, September 12, 2013 | 6:00 – 9:00pm | By Invitation Only
Today, China is embarking on a complex development path, requiring hard decisions to sustain its growth and stability over the long term. Important issues that the current leadership needs to tackle include urbanization, environmental protection, industrial upgrades, and a wide range of financial reforms including RMB internationalization and capital market liberalization. Meanwhile, investors have become increasingly wary of the emerging policy and market uncertainties brought by the new leadership's reform agenda. The country's growing shadow banking system further complicates the picture and raises questions regarding its economic and financial stability.
Tuesday, September 10, 2013 | 4:30 – 6:00pm | Davis Wright Tremaine
Please come meet this dynamic team and outstanding Chinese E‐Commerce trail blazers. They will share their China business outlook, global strategy, and US marketing plans. They would like to invite you to connect with them and join the E‐Commerce revolution in China.
Monday, August 12, 2013 | 5:00 – 7:00pm | Trade Development Alliance of Greater Seattle
The Chinese healthcare market is increasing by 10% annually and it is expected China will become the second largest healthcare market in the world by 2020. China's healthcare spending is projected to grow from $357 billion in 2011 to $1 trillion in 2020 with the country's medical services segment increasing 18% each year reaching $500 billion by 2015.
Monday, August 12, 2013 | 1:30 – 3:30pm | Seattle Metropolitan Chamber of Commerce
An intensive business summit focused on the opportunities and challenges ahead of doing business in and with China as China transitions to new leadership.
Friday, April 19 2013 | 7:45 AM – 2:30 PM | City University of Seattle
Join James McGregor in an intimate discussion based on his new book, "No Ancient Wisdom, No Followers."
Thursday, April 18 2013 | 5:30-7:15 PM | Davis Wright Tremaine offices