Ming Zhang, President of MulvannyG2 Architecture
Ming Zhang is president of MulvannyG2 Architecture, which has designed retail, mixed-use, and corporate offices and interiors for clients and brands around the world since 1971.
MulvannyG2 is among the world's 40 largest architecture firms and consistently ranks as one of the world's top three retail designers. They have offices in Bellevue, WA; Portland, OR; Irvine, CA; Washington, D.C; and Shanghai, China.
In this video, Bellevue Mayor Conrad Lee interviews Ming Zhang. They discuss the many benefits of investing in Bellevue (the city's population is 30 percent Asian) and the direct support businesses receive from Bellevue's Chinese community.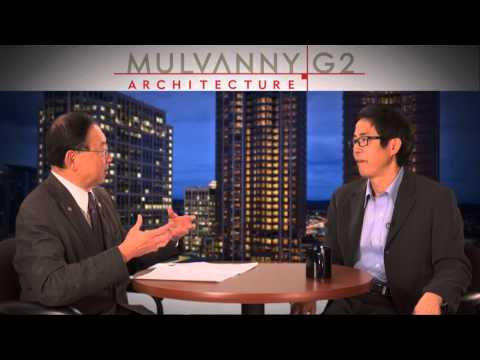 Q. How long have you lived in Bellevue-Seattle area?
A. I moved to the area in 1990. I came from Chicago, where I had moved in 1986 to attend graduate school at the Illinois Institute of Technology, and that was my first exposure to the United States.
After moving to Washington State, I immediately noticed the cultural differences between the Midwest and the Northwest. As a fairly recent immigrant at that time, I was eager to absorb and understand American culture and wanted to look at the U.S. objectively.
I found the Seattle/Bellevue area in particular to be friendly and welcoming, and also much easier to integrate into than the Midwest. There is a strong connection to Asia in this area that makes it easier for immigrants from Asia, I think.
There is also a strong interest in other cultures and general sense of openness here that makes it an ideal place to both live and work.
Q. Please tell us about your career path to your current job.
A. When I arrived in the U.S. in 1986 to attend graduate school in architecture, I expected to work only in the U.S. China was not yet experiencing the tremendous economic growth that we've seen over the past decade or more. That was still a few years away.
But as I was working here, gaining experience and building relationships, China's major economic policy reforms began to be reflected in a building boom as millions moved to urban areas to live and work. This afforded me the business opportunity to return to China to work and serve as a bridge between the two cultures. As a Chinese American, I understood both countries and this helped me to bring Chinese and U.S. firms together on projects and form lasting relationships.
It has been satisfying and fulfilling to get to influence the built environment in both the U.S. and China through some MulvannyG2 designed projects I've led such as the Tacoma Convention Center, Redmond City Hall, the Fujian Provincial Electric and Power Company headquarters, and the China Construction Bank.
I didn't expect I would get the chance to return to my native country to design large-scale projects, but it's has been an unexpected delight and honor to do so.
Q. What opportunities do you see in China in your field?
A. There is a need for mixed-use destinations in China. Due to urbanization and China's rapid growth over the past decade, the middle class is expanding and people want a better life for themselves and their families.
They not only need retail options – one of MulvannyG2's design specialties – but also places to gather for entertainment, work, shopping, and a sense of community. We are seeing this now in not only first-tier cites but increasingly in second- and third-tier cities across China.
Having the opportunity to build mixed-use facilities is about much more than providing retail space, however; we also have the chance to shape China's future by using the power of design to influence, inspire, and improve people's lives.
This is both an opportunity and a responsibility that we take very seriously. We are passionate in our belief that thoughtful, sustainable design can help people.
This is true of people everywhere, but especially so in China. As the country with the largest population, China will have a major impact on the world's resources, for better or worse. So it's critical to do things efficiently and sustainably there.
The Chinese government has set ambitious goals in terms of sustainability and "green" practices, and better designed buildings play a critical part in those efforts.
There is a new level of collaboration among Chinese and foreign designers, and that trend will certainly continue. This kind of partnership will bring about improved, more sustainable design and a better end product for building owners, operators, and end users.
Q. What do you think has contributed to your firm's success in China?
A. In a word: relationships.
MulvannyG2 was among the first design firms to establish a permanent office in China (we began working in China in 1996), and this presence and commitment has made a huge difference for us.
It has also been satisfying for me personally to return to China to help build a team of designers there, and I go to China quite often. Our success is based on our innovative, sustainable designs of course, but also in our ability to forge strategic partnerships. This is a part of our business that our firm truly enjoys. It's immensely gratifying to connect the dots, build friendships, and celebrate each other's successes. It's a win for everyone involved.
Q. Do you have any advice for Chinese companies interested in doing business in this region?
A. It's a similar answer as to why we've enjoyed success in China. Building relationships is crucial, and it works both ways. It's important to do your research and to take the time to find the right partners. You must have an understanding of the culture to be successful, whether in the U.S., China, or anywhere else, so having local partners is invaluable. It allows you to serve your clients more completely and holistically and gives you a better chance for long-term success.
So I would advise Chinese businesses to reach out to strategic partners in the Bellevue area and take the time to understand what their business needs and goals are. I think Chinese companies will find that local businesses here are willing and eager to work with them and that there is a solid infrastructure here on a city and state level to support such partnerships.